WELCOME!
... to Le Chéile Secondary School, Tyrellstown

LE CHÉILE
...creating a caring & compassionate environment


All parents of students who have got a place at Le Chéile Secondary School for September 2016 can begin saving now for the iPad and uniform using the Easypay facility on this website.
Le Chéile Secondary School, working within the Catholic tradition and its understandingof the dignity of the human person, welcomes children from all faiths and none and will create a caring and compassionate environment where each child is known, respected and appreciated as an individual.
Through participation in: 
• Classroom Activities • Sport Music and Drama
• Community Projects • Extracurricular Activities
each child will have opportunities to flourish in ways that will promote their self-esteem as well as an awareness of the importance of their contribution to the community in which they live.
The PDST have recognised the very high standard of teaching using technology at Le Chéile Secondary School.  They visited our school in November and recorded four of our teachers teaching to use in their training and upskilling of teachers in other schools. Watch the recordings here to have a unique insight into a typical classroom […]
Congratulations to the 1st Year Boys Basketball team who won their Semi-Final today against Coláiste Raithín, Bray A score of 26 – 20. The boys played extremely well and fought hard for the win.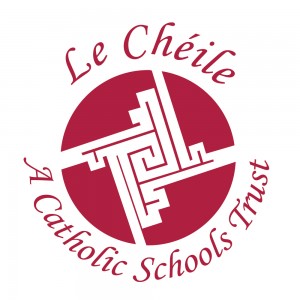 ACTIVITIES
Here you can browse the activities taking place at Le Chéile including Sport, Drama, Music, Community Projects, Debating… Read more >>
UNIFORMS
You may purchase General Items such as shirts, blouses, skirts and trousers as well as all Sports and Activities items… Read more >>
IPADS
As part of our new iPads for school initiative, we are promoting the use and implementation of new technologies… Read more >>
POLICIES
Our policy outline is intended to support staff and colleagues in devising our secondary school policies and… Read more>>
welcome • wisdom • witness